Nancy and the Count: Vampires' Gold
A Christian, vampire, climate change adventure.
Buy Now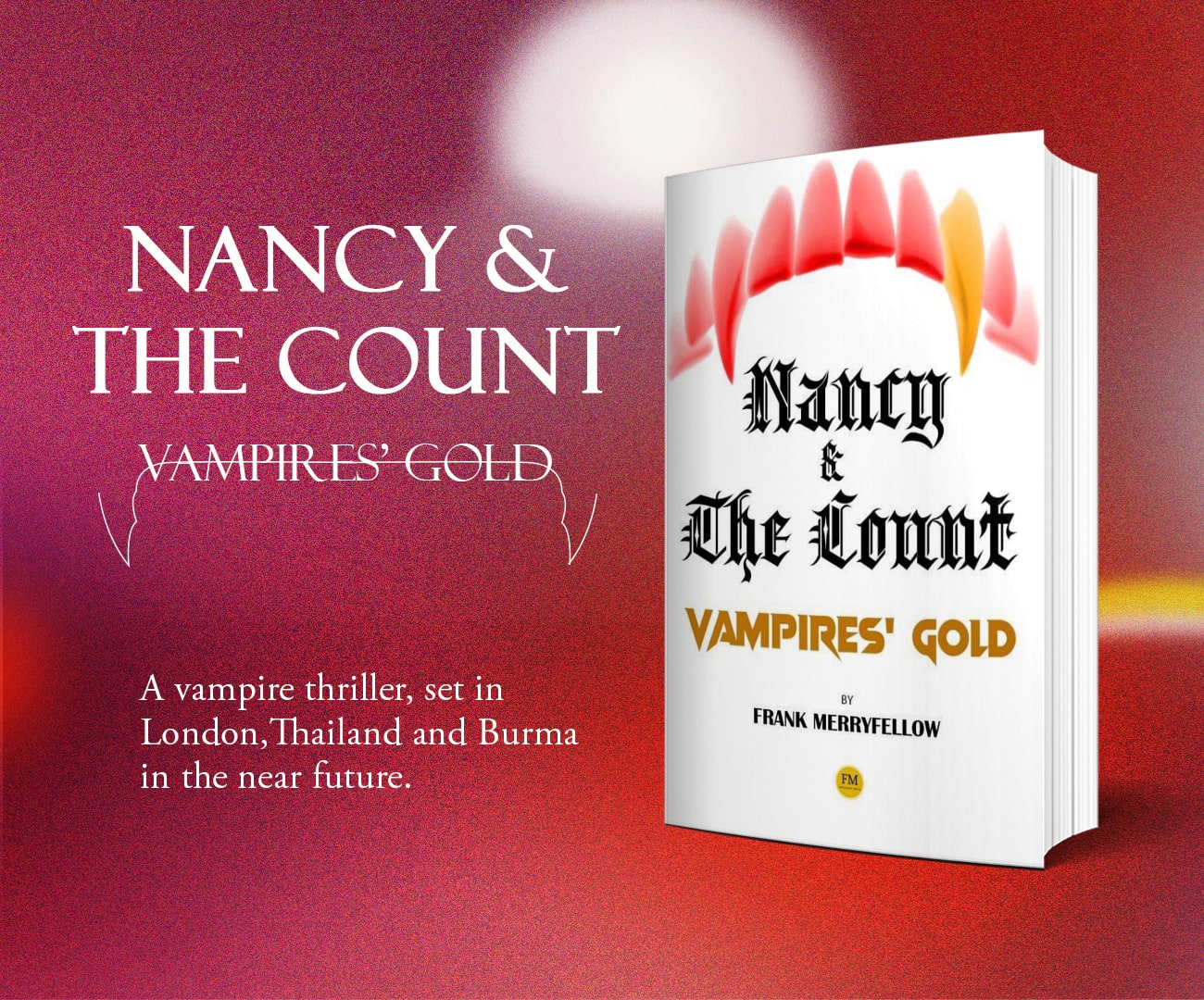 The near future; an adjacent reality. Climate change is kicking-in - a good time for vampires to re-emerge.
Our heroine Nancy kills an attacking vampire, setting off a chain of adventures. Clues lead from subterranean vaults of the British Museum to encounters with the evil Count and his minions.
Teaming up with her comrades in the revolution, Nancy heads to the Thailand-Burma border, and into the jungle warzone. The Count is in league with the Burmese junta. Can Nancy and her team out-fight the forces of evil?
---
Frank Merryfellow lives in Chiang Mai, northern Thailand. This is his first novel.
Subscribe [free] to South and Merryfellow on :
This week: The Dogmeat Diaries - Episode One [trigger warning]
---
In Chiang Mai, get hardcopies from
Golden Land Solidarity Collective
TungHotel Road, Nong Pak Rong, Chiang Mai
Thailand, 50000
Get Your Hardcopy Here
Book Zone CM
4 Thapae Rd Soi 5, Chang Moi Sub-district, Mueang Chiang Mai District
Chiang Mai 50300
Get Your Hardcopy Here
---
And in Mae Sot, get hardcopies from
---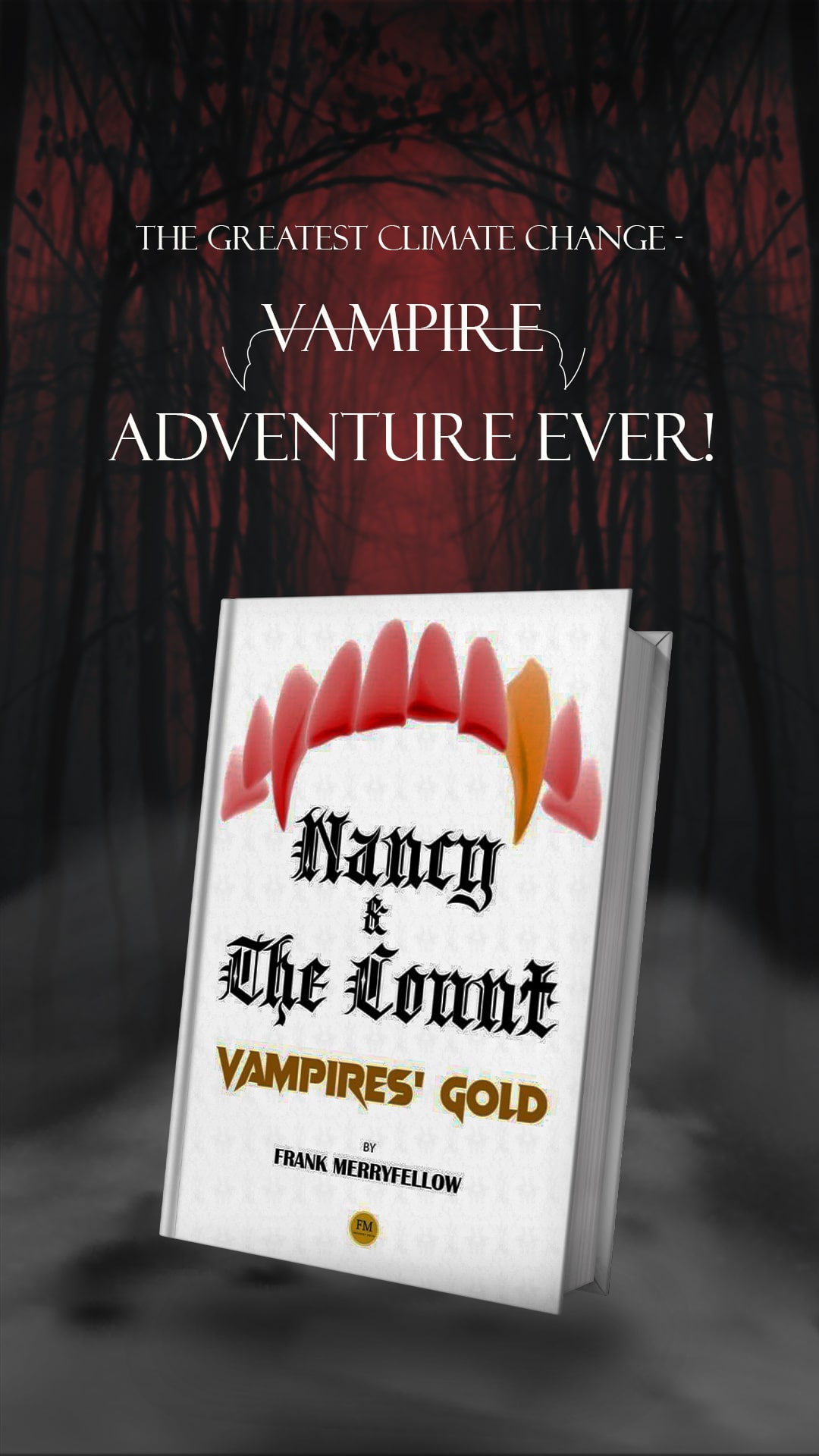 Andreas beta-reader:
" I loved it! It was a pure joy to read.
The book works wonderfully. To me, the vampire story served as a great backdrop to tell the story of your Karen protagonists, as well as the general Karen struggle … comes across as quite universal, featuring human reactions / dilemmas / challenges / joys that can be recognized by all.
I found the book very warm – and even funny – despite its gory topic. It's easy to sympathize with Nancy, and be drawn into her story. I also loved the myths, language, history, social codes, your descriptions of the NGO world along the border. "
Frogmort Press, Chiang Mai, Northern Thailand
This is our first book!
Frogmort Press is getting started just as generative Artificial Intelligence surges onto the scene.
Frogmort Press and its author are very concerned about the bots.
---
1. The potential for AI weaponisation through social media and other platforms is a massive threat to civic space, and freedom of thought. Corporations and governments are already monetising our attention through the addictive echo-chambers of legacy social media, and poisoning politics through misinformation (trolls etc). All this will get much worse with AI.
2. The huge data-sets required to train generative AI (natural language) systems are beyond the resources of all but a small handful of corporations and states. In the near future, chat-bots may play key roles in defining "truth" - replacing internet search/click-through as the main avenue for accessing information and analysis. Given the secrecy around algorithms, it seems likely that corporations and governments will direct our attention according to their own commercial and political agendas ('discipline'). This manipulation is totally unaccountable - and worse, for the first time in history (arguably), basic facts and values will be determined and disseminated by a small group of unaccountable actors, operating through the mysteries of AI.
3. Intellectual Property: generative AI systems draw on the intellectual property of humankind, as deposited online. The bots feed this back to us, in variously distorted ways. The owners and original creators of 'content' (everything on the Internet) have not been consulted. Our creations are being pirated, and sold back to us.
4. AI is total left-brain operational intelligence - without conscience, and without connection to the necessary balance of right-brain intuition and embodied connectivity. AI is operational intelligence, without emotion.
---
Contact Frogmort Press
frogmortpress23@gmail.com
Email Us
---
Frogmort Press
Be Human - real books, no bots